In this article:
How to locate and accept Permutive deals from your Publisher connections in DV360.
Once you have created your Advertiser cohort and saved this for deal creation, connected Publishers will create a corresponding deal in their SSP and send this to the specified DV360 seat in your Settings tab.
As best practice, Permutive asks that connected Publishers set deals up as Preferred Deal PMPs in GAM to enable Advertisers to scale delivery across their created audience cohorts.
Locating Preferred Deals in your DV360 DSP:
1) Open your Inventory tab in your DV360 seat.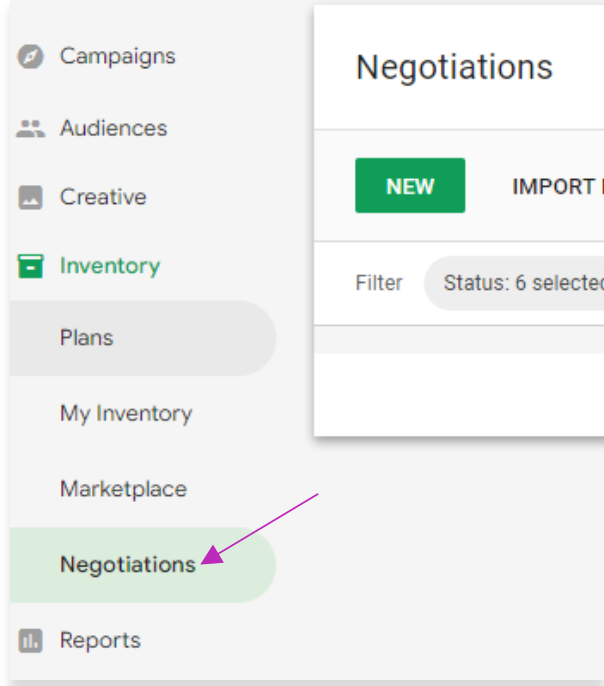 2) Under the inventory tab, select Negotiations.
Offers currently being negotiated are displayed, by default, sorted by the date of the last update. Those requiring your attention appear in bold.
3) Click "Add filter" to filter by Proposal ID, Proposal name, Deal ID, Publisher name, Deal type or Status.
As standard, the Permutive Audience Platform will log each publisher Proposal Name and Line Item/Proposal ID under your created cohort for ease of locating publisher deals that have been sent to your DSP.
To locate the publisher deal, search for the corresponding Proposal Name or ID which will highlight the required Preferred Deal.
4) Select "Status" to view the deal status - under your available actions, please either click to accept the provided deal, or in case any deal information is incorrect, request changes and submit this back for review.
Google DV360 categories programmatic deals under the following 5 categories of status - it is important to be aware of are the following:
5) Once you have accepted the Preffered deal, the status will change to 'Finalized' and the offer will turn into an available Line Item and Deal ID within your inventory.